In the September 2022 release we've added new functionality to Author, improved import of text and Visio, enhanced workflow and corrected some bugs.
Author
Revision Comparison
When you are making changes to your business process there are times when you want to understand the difference between the process at different points in time. In BusinessOptix Author we've added a visual comparison option to the text based process difference already available.
You can select from any two versions or revisions of your model and compare them. The original and modified version of the process diagram are shown, with each modified, added or deleted step being show in different styling. Selecting a changed step in the process will show the original and modified property details. Tray and property titles are shown in bold, when modified.
See Model Revision Comparison in Author for more details.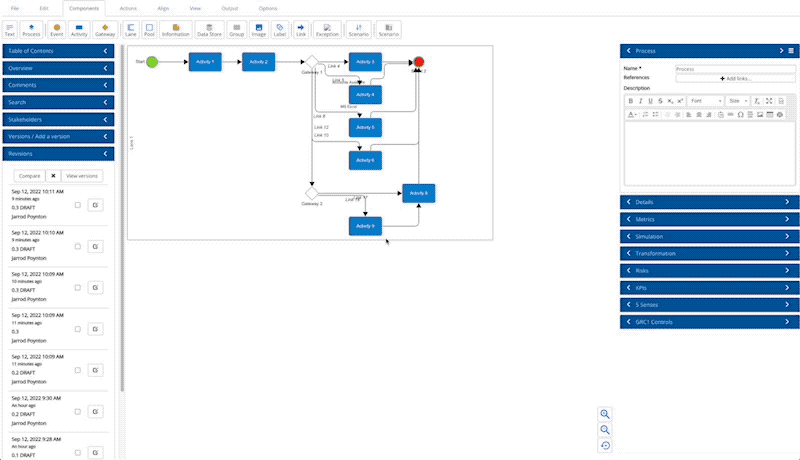 Selecting Author, Owner and Workflow Stakeholders
Whether you are setting-up the model author or owner for the first time, or changing the workflow stakeholders we've made it easier to select the user for the job. The drop-down menus for each of the user details now support type ahead, so just type a few letters of the stakeholders name and you'll get a short list more quickly.
Master Data
In Author
For models that do not have an associated diagram, such as master data, the table of contents is now wider. This enables you to see more of the section title, when you scroll through the table of contents.
For models that have non-visual links to other models or external contents, e.g. references in master data, Author now makes it easier to re-order the sequence of these links.
Import
Changes have been made to two of the importers. And more generally following the successful import of a new model you will now be prompted to add model level details such as the name, owner, author and description. This is all the same information you are prompted for when creating a new model directly in Author.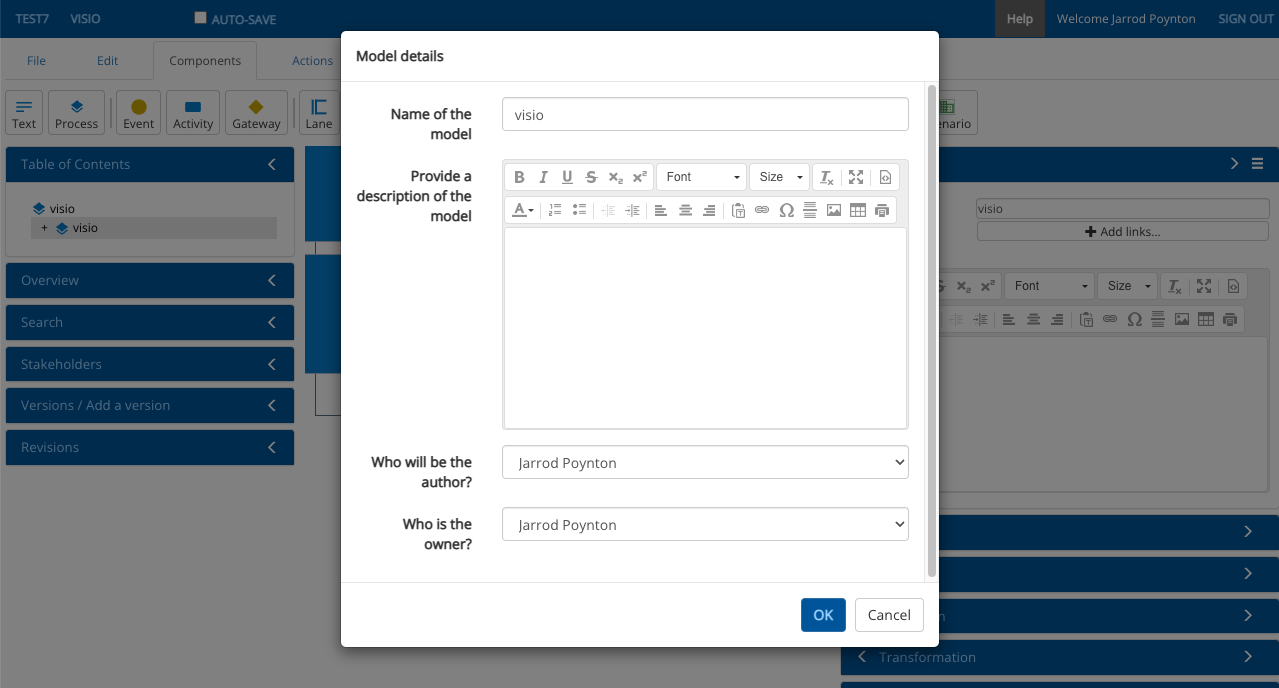 Visio Import
In many of the Visio's imported into BusinessOptix it's quite common to find links between steps aren't actually connected to one or both steps. When the link starts or end really close to a shape we'll make an assumption that the adjacent shape is the step the link should connect to. But we don't know for certain which way the link is going. In these cases we'll list any errors or assumptions on the diagram. A list of issues will be shown for an author to investigate.
Process CSV Import
Process CSV import enables you to capture process step information in Excel and then we'll convert it into a process model. We've extended process import to allow you to capture much more information about the process, such as performance metrics or even custom properties your library has added to the process model.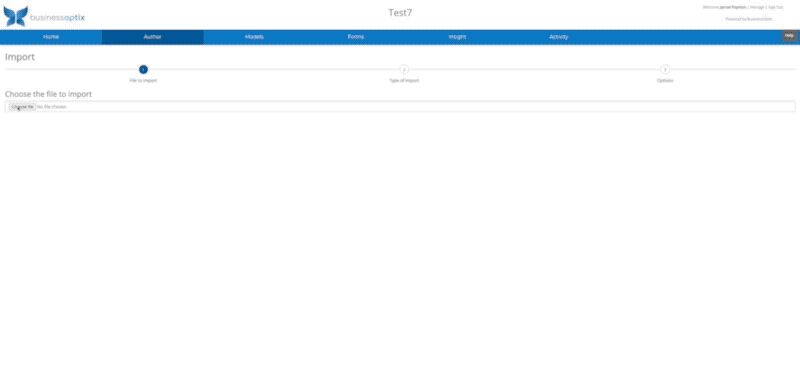 Workflow
Auto decisioning
In workflow to avoid some users having to perform the same workflow decision multiple times on the same model BusinessOptix workflow will remember the authors previous decision when the model version has not been changed. This behaviour has been changed and the previous decision will now only be remembered for 28 days. After 28 days if the model version is unchanged then any review or approval decisions will need to be re-performed. For libraries using the quality review cycle this means that you don't have to bump the version number to perform the annual review/approval.
Email Notification
The text for a workflow notification has been amended. It now reads BusinessOptix Workflow, were previously it read Workflow Action Required. This is to reduce the confusion on workflow email notifications that did not require any additional actions to be performed. If further clarity on the action being performed is required a Workflow Author can make changes to the text that is sent on all notifications.
Administration
On the user page in Manage we now display a count of licenses allocated by license type.
Other
In Author after selecting a step in a process model the links are highlighted. When the links had custom styling, unselecting the step did not reset the link style. This has been corrected.
In Model Output links that have no information associated with them were incorrectly being shown in the Document view of Output. This has been corrected.
In Author when selecting a value from master data and your item list was very long (1000+ items) then property filtering the list could take longer than expected. This has been improved.
When the model owner is set to a group and the group had an email address associated the associated email address did not receive notifications. This has been corrected. Whereas for individuals the user has control of when (or if) they receive notifications, this is not possible for notifications to group email addresses.